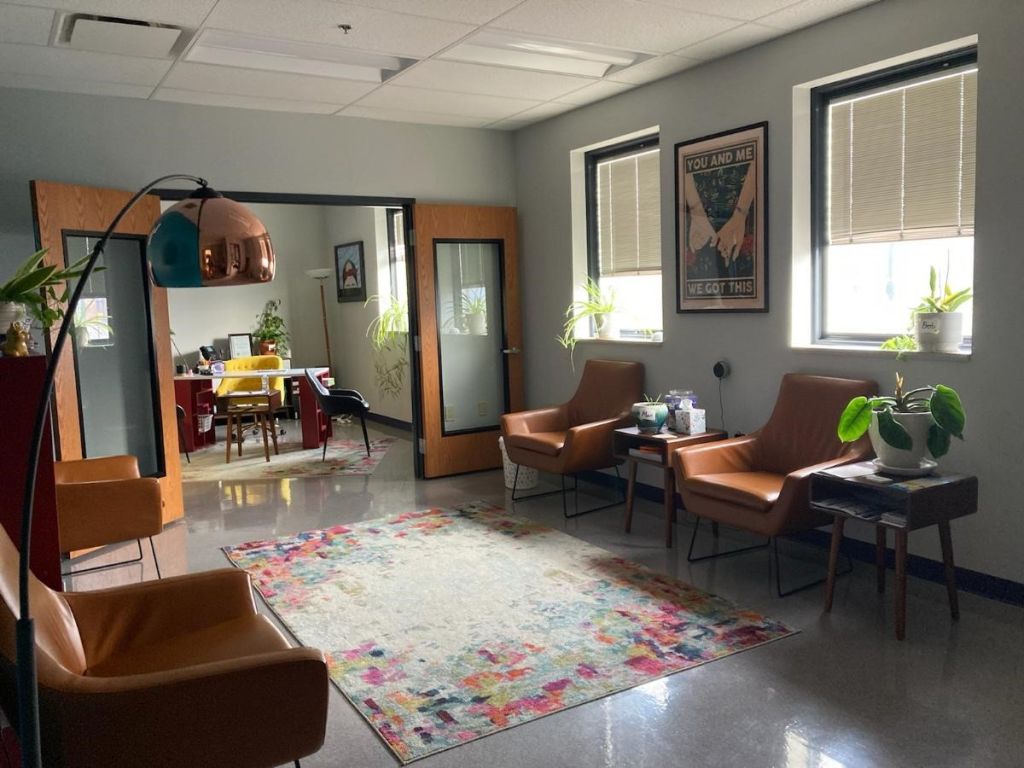 Article by Meredith Doench, originally published in The Buckeye Flame
For nearly 50 years, the Dayton organization Daybreak has been serving homeless and at-risk youth. It was only a few years ago, however, that leadership recognized it could do more for a large portion of its population: the LGBTQ+ community. More than 28% of the young people Daybreak serves identify as LGBTQ+.
In March 2021, Daybreak opened a drop-in center, David's Place, for LGBTQ+ young adults ages 18 to 25. Open Monday through Friday, the facility offers access to showers, laundry facilities, meals, personal-care items and contraceptives, as well as assistance purchasing binders and gender-affirming clothing.
The space, located on the Daybreak grounds, also includes an educational workspace with computers and Wi-Fi access, as well as an LGBTQ+ inclusive library and educational resources. In addition, David's Place is an entry point into other Daybreak services, including emergency shelter, job training, health services, counseling life-skills programs and a 100-unit transitional housing program.
The center is named for David Mudry, a gay man from Oakwood, a suburb of Dayton. Mudry died at age 23 from an unknown heart condition while living in Kentucky. The Mudry family had always been accepting of David and wanted to do something to help other LGBTQ+ youth. David's mother, Sandy Mudry, worked closely with Daybreak to create the new center.
Josh Egeland has directed David's Place since its inception. A resident of Dayton since the early 2000s and a graduate of Wright State University, Egeland was drawn to David's Place based on his "lived experience and due to the increased recognition of the additional challenges and inequities faced by LGBTQ+ youth and young adults navigating Daybreak's services," he said. One of Egeland's major goals for the program has been to "move the needle on institutional biases and social inequities faced by the LGBTQ+ community." More than 40% of homeless youth identify as LGBTQ+ and are at a higher risk than the general population of becoming victims of violence, trafficking and housing discrimination
Egeland told the Dayton Daily News that so many LGBTQ+ youth are particularly vulnerable because of "a lack of family acceptance, a lack of community acceptance, or community support. … Lots of young folks who identify as LGBTQ are torn between wanting to be actualized, be self-determined in their lives and the way they live their lives, and also fearing that their support system, their safety net, will be pulled out from under them if they come out to their family."
The support at David's Place goes beyond the basic necessities. The center hosts a plethora of social groups and daily activities: gardening, tabletop gaming, outings to the Dayton Metro Library, monthly PFLAG meetings and opportunities to volunteer at a local animal shelter. There's also an active creative-writing group whose members share their work at a monthly coffeehouse open mic night, and a lunch-and-learn program featuring speakers and documentaries on a wide variety of subjects.
Egeland credits a long list of community businesses and partners in the creation of David's Place, including one of Dayton's brightest gems: drag comedy group the Rubi Girls, who have been a close partner in making David's Place a financial and physical reality. "They truly are a legendary force for good within (and beyond) our community, and we are so proud to have earned their recognition and support through our journey," said Egeland.
The inspiration of David Mudry's family, though born in tragedy, has grown into a physical space full of opportunity and hope for at-risk LGBTQ+ youth in Dayton.
To learn more about Daybreak's LGBTQIA+ services, visit our David's Place page.