About OZ Works
The Stuart & Mimi Rose Opportunity Zone for Youth is the engagement center for Daybreak youth.
Job readiness and life skills development happen at OZ Works. It's the Daybreak program that prepares youth for sustained self-sufficiency in the larger community outside of Daybreak.
OZ Works is also the home of Lindy's, Daybreak's job readiness program.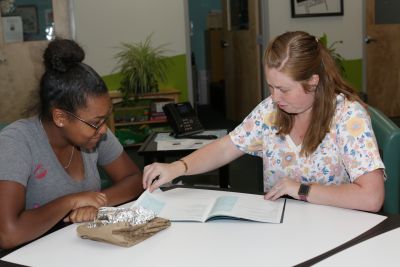 What happens in OZ Works?
Job Readiness
Train at Lindy's.
Get help finding a job.
Earn a trade credential.
Develop communication and leadership skills for employment.
Learn how to write a resume.
Visit area businesses for career exploration.
Educational Support
Complete your GED or high school diploma.
Tour area colleges and universities and get enrollment assistance.
Learn how to set up a personal budget and other financial literacy skills.
Creative Engagement
Music composition and recording in Daybreak's recording studio.
Photography club.
Help manage Daybreak's rooftop garden that provides the vegetables used in the shelter kitchen.
Socialize.
Learn healthy eating guidelines.